Wonder-ful Printable Valentine's Day Cards! #choosekind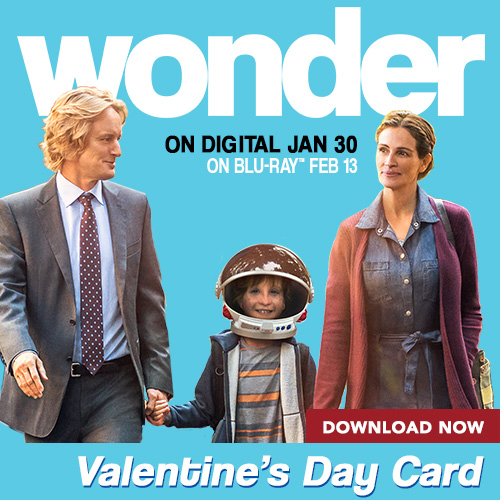 Celebrate your love for everyone in your life with these unique and creative Valentines! The incredibly moving and heartfelt family film, Wonder, is now on Digital and is heading to 4K Ultra HD Combo Pack (plus Blu-ray and Digital), Blu-ray Combo Pack (plus DVD and Digital), DVD, and On Demand February 13 from Lionsgate.  And now you can make your own WONDER Valentines for Valentine's Day! Print out your own Wonder Valentines Cards by clicking the image and saving the PDF!
About Wonder:
Based on the New York Times bestseller, WONDER tells the incredibly inspiring and heartwarming story of August Pullman, a boy with facial differences who enters fifth grade, attending a mainstream elementary school for the first time.
The following two tabs change content below.
Becky is Content Creator in metro-Detroit. She is also an interior designer, a former adjunct professor, a gluten free foodie, and world traveler. Week99er is a lifestyle site featuring real life reviews of the latest in entertainment, technology, travel destinations and even set visits. Her Youtube channel gives in depth reviews and travel videos. Contact her at
[email protected]