Weekly Entertainment Digest – May 21st
New movies, new series, and even activity sheets! There's a lot going on this week. Be sure to check out the movie reviews and even the open giveaways.
Be sure to check out the latest movie release schedule and everything coming to Hulu this summer!
Free Screenings:
Giveaways:
Movie and Series Reviews:
Movies and Series Updates:
Shout! Studios Acquires Dakota Pipeline Pic 'On Sacred Ground'
Big Picture Ranch (BPR) has sold its 16th film about solutions to the growing global climate crisis. On the heels of the Earth Day 2022 release of the documentary film, The Revolution Generation, the studio and filmmakers (who were also behind the successful documentary Kiss the Ground) just sold On Sacred Ground starting William Mapother, Kerry Knuppe, David Arquette, David Midthunder, Amy Smart, Irene Bedard and Mariel Hemingway to Shout! Studios.
"On Sacred Ground is a potent drama about a conflict as old as America itself," said Shout! Studios' Vice President of Acquisitions, Jordan Fields. "Josh and Rebecca Tickell have crafted an engrossing and eye-opening film that demands a reckoning with how our indigenous populations have been treated for generations. Spoiler alert: their struggle continues."
Big Picture Ranch has a bold mission, to use filmmaking to reverse climate change before it is too late. Releasing their 16th film this winter and in production on three more films, their track record shows that it is possible to effectively take action now. Their recent film Kiss the Ground (Netflix) narrated by Woody Harrelson introduced the world to the concept that we could reduce carbon in the atmosphere to pre-industrial levels through improving soil health.
Helping to make the term "regenerative agriculture" mainstream, the Tickells know how to make films that are entertaining while encouraging audiences to take action around critical issues.

"We have to use every tool available to get atmospheric carbon levels down to an acceptable level that can sustain human life on Earth. For us that tool is movies." says Rebecca Tickell. "Movies can be transformative for the viewer. We regularly see people stand up at the end of our films, quit their jobs, start new careers and take actions that they would never have thought to do before watching."

Josh Tickell Shout! Studios acquired North American rights to Concourse Media's drama On Sacred Ground, starring William Mapother (Lost), David Arquette (Scream franchise) and Amy Smart (Stargirl), with plans for a strategic launch of the pic across all major entertainment platforms, beginning with a theatrical day-and-date debut in the first quarter of 2023.
The Big Picture Ranch film studio is run by husband-wife filmmaking team Josh and Rebecca Tickell. The Tickell's and their studio are known for their pedigree of award-winning, activist and star-studded documentaries including FUEL (Winner Sundance Audience Award 2008), The Big Fix (Festival de Cannes) and most recently Kiss the Ground, which launched at the Tribeca Film Festival and garnered over 75 major film festival awards before landing on Netflix.
As part of the unique release of On Sacred Ground, Josh Tickell and Rebecca Tickell's Big Picture Ranch will also screen the film on over 1,000 college campuses, as a means of promoting its underlying message of equality and the importance of upholding indigenous rights.
On Sacred Ground follows Daniel (Mapother), a journalist and Afghanistan War military veteran, and Elliot (Arquette), an oil company executive, who find themselves on opposite sides of the fight during the 2016 construction of the contentious Dakota Access Pipeline, which runs through the Standing Rock Indian Reservation in North Dakota, land that is owned by the Lakota "Sioux" Tribe. As the story unfolds, Daniel starts to align himself more with the Standing Rock Sioux Tribe than the oil company he was hired to write about favorably, and the two characters go down separate paths as the events unfold during one of the most heated protests and confrontation with Native American tribes in modern U.S. history.
Protests of the Dakota Access Pipeline occurred at several places because of concerns about its impact on the environment and to sites sacred to Native Americans. Indigenous nations around the country opposed its construction, along with the Sioux tribal nations. In North Dakota, next to and on the Standing Rock Indian Reservation, nearly 15,000 people from around the world protested, staging a sit-in for months. The film from directors Josh Tickell and Rebecca Tickell draws on their personal experiences as well as actual footage shot during the protests. The pair also consulted with Lakota tribal members and indigenous film producers to ensure the depiction of events in the film accurately told their story.
Josh Tickell, Rebecca Tickell and Mapother wrote On Sacred Ground, which also stars Kerry Knuppe (Pachinko), Frances Fisher (Watchmen), Irene Bedard (The Stand) and Mariel Hemingway (Grace & Grit). Rebecca Tickell, Josh Tickell, Mapother and Wesley Hartshorn served as the film's producers. Concourse Media holds worldwide sales rights and will be presenting the pic to potential buyers at the 2022 Cannes Film Market .
"We're hopeful that On Sacred Ground can awaken audiences to the intersection of indigenous issues and the climate crisis," added Big Picture Ranch's Rebecca Tickell. "One thing we realized while making this movie is that to heal our planet, we may first have to heal the mistakes of our past."
Get Ready to Watch DreamWorks Animation's Boss Baby: Back in the Crib with All New Activities! – Streaming May 19th
The boss is back, baby! DreamWorks Animation's Boss Baby: Back in the Crib, is coming to Netflix May 19. Suit up for the brand new show with Boss Baby coloring sheets, word search, and a delicious smoothie recipe. Download the activities below!
The series The Boss Baby: Back in the Crib picks up where the second film left off and follows Boss Baby as he moves in with his adult brother Tim's family, including his two nieces: brainy big kid Tabitha and fellow Baby Corp employee Tina. Together, Boss Baby and Tina co-lead a new Field Team fighting to increase Baby Love while keeping a new group of arch-nemeses – The Uncuddleables – from destroying Baby Corp itself.
TRAILER DEBUT: Hulu's "Look At Me: XXXTENTACION"- Streaming May 19th
Look At Me: XXXTENTACION explores how Florida teenager Jahseh Onfroy became SoundCloud rapper XXXTENTACION, one of the most streamed artists on the planet. Through frank commentary from family, friends and romantic partners, and unseen archival footage, director Sabaah Folayan offers a sensitive portrayal of an artist whose acts of violence, raw musical talent and open struggles with mental health left an indelible mark on his generation before his death at the age of 20.
Snack Charcuterie Recipe Inspired By Blue's Clues & You! Let's Learn With Blue – On DVD May 24th
As the school year comes to a close, Blue is excited to keep your kids learning with her new show Blue's Clues & You! Let's Learn With Blue, available on DVD May 24. In celebration of the release, we are happy to share a snack charcuterie board recipe inspired by the show!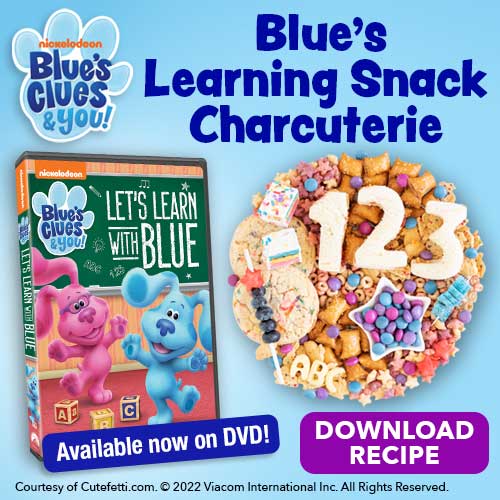 WOLF HOUND – In Theaters and On Demand June 3rd
Featuring action sequences using vintage aircraft, this thrilling WWII epic shows how one man's courage can change the world. On a recon mission over Nazi-occupied France, pilot David Holden (James Maslow) is shot down along with a B-17 bomber. He lands near an airfield, where he learns the Germans are loading the U.S.-marked aircraft with a city-destroying superbomb that could help the Axis win the war. Now, Holden must evade search patrols and a vengeful Nazi soldier to rescue the captured crew and stop the doomsday plot.
GOOD LUCK TO YOU, LEO GRANDE | Trailer & Poster Debut – On Hulu June 17
In GOOD LUCK TO YOU, LEO GRANDE, two-time Academy Award winner Emma Thompson (Love, Actually) embodies the candor and apprehension of retired teacher Nancy Stokes, and newcomer Daryl McCormack (Peaky Blinders) personifies the charisma and compassion of sex worker Leo Grande. As Nancy embarks on a post-marital sexual awakening and Leo draws on his skills and charm, together they find a surprising human connection.
Starring Emma Thompson, Daryl McCormack, and Isabella Laughland
Directed by Sophie Hyde
Brian and Charles Trailer – In theaters on Friday, June 17th, 2022
BRIAN AND CHARLES follows Brian, a lonely inventor in rural Wales, who spends his days building quirky, unconventional contraptions that seldom work. Undeterred by his lack of success, Brian attempts his biggest project yet. Three days, a washing machine, and various spare parts later, he's invented Charles, an artificially intelligent robot who learns English from a dictionary and has an obsession with cabbages. What follows is a humorous and entirely heartwarming story about friendship, family, finding love, and letting go.
The Great American Recipe" Streaming on the PBS Documentaries Prime Video Channel June 24
Arriving this June on the PBS Documentaries Prime Video Channel is "The Great American Recipe," the all new inspiring eight-part cooking competition that celebrates the multiculturalism that makes American food unique and iconic. Hosted by "TODAY" Food & Style Contributor Alejandra Ramos, the series gives ten talented home cooks from different regions of the country the opportunity to showcase their beloved signature dishes and compete to win the national search for "The Great American Recipe." Judges Leah Cohen, Tiffany Derry and Graham Elliot bring their professional insights and deep culinary knowledge to encourage and support the contestants along the way.
The series blends food, family and fun, highlighting the amazing variety of tastes and traditions found across the U.S., while capturing the roots of America's diverse cuisine. From family favorites passed down through generations, to internationally influenced recipes that are quickly becoming mainstays of American cuisine, the series mixes camaraderie with competition, revealing rich personal stories and the inspiration behind the contestant's favorite recipes. The program culminates in a finale that features the finalists preparing an entire meal for the judges to make their ultimate decision. One of the winner's dishes will grace the cover of The Great American Recipe Cookbook, which will also feature recipes from all of the contestants and the show's host and judges.

The subscription rate for the PBS Documentaries Prime Video Channel is $3.99/month with an Amazon Prime or Prime Video subscription. Every purchase supports public television for all.
NEW TEASER & KEY ART: Hulu's "Only Murders in the Building" Season Two – Streaming June 28th
Following the shocking death of Arconia Board President Bunny Folger, Charles, Oliver & Mabel race to unmask her killer. However, three (unfortunate) complications ensue – the trio is publicly implicated in Bunny's homicide, they are now the subjects of a competing podcast, and they have to deal with a bunch of New York neighbors who all think they committed murder.
DISNEY+ TO DEBUT DISNEY ANIMATION'S ALL-NEW SERIES "BAYMAX!" ON JUNE 29
In celebration of National Streaming Day, Disney+ has released a new trailer and key art for Walt Disney Animation Studios' "Baymax!" Streaming exclusively on Disney+ on June 29, the all-new series of healthcare capers returns to the fantastical city of San Fransokyo where the affable, inflatable, inimitable healthcare companion robot, Baymax, sets out to do what he was programmed to do: help others. "I thought it would be fun to do a Disney+ series with Baymax interacting with normal folks," said series creator Don Hall, who helmed 2014's Oscar®-winning film "Big Hero 6." "In each of our six episodes, Baymax just wants to help someone—and a lot of times they don't want to be helped. He sets out to fix a physical issue that he's identified, and in the process, gets to a deeper, more emotional place and can be almost transformative in that role."
"Baymax!" is produced by Roy Conli and Bradford Simonsen. The series' episodes are directed by Dean Wellins (Eps 1, 2, 6), Lissa Treiman (Ep 3), Dan Abraham (Ep 4) and Mark Kennedy (Ep 5). Screenwriter is Cirocco Dunlap. Scott Adsit returns as the voice of Baymax. Voice talent featured in episodes include Ryan Potter, Maya Rudolph, Emily Kuroda, Lilimar, Zeno Robinson and Jaboukie Young-White.
Everyone needs a big hero ●—● Watch the new trailer for Baymax! and stream the Original series starting June 29 only on @DisneyPlus. pic.twitter.com/ZeAjxYZkCE

— Disney Animation (@DisneyAnimation) May 20, 2022
MARVEL STUDIOS' "SHE-HULK: ATTORNEY AT LAW" TO DEBUT ON DISNEY+ AUGUST 17
Disney+ has released a new trailer and key art for Marvel Studios' "She-Hulk: Attorney at Law." Streaming exclusively on Disney+ beginning August 17, the new comedy series stars Tatiana Maslany as She-Hulk/Jennifer Walters, a lawyer who specializes in superhuman-oriented legal cases.
Executive producer Kevin Feige, president of Marvel Studios and chief creative officer of Marvel, welcomed Tatiana Maslany to The Walt Disney Company's 2022 Upfront presentation this afternoon at Basketball City on Pier 36 in New York. The pair shared details about the upcoming series, including the August 17 launch date, and debuted the new trailer for attendees.
Directed by Kat Coiro (Episodes 1, 2, 3, 4, 8, 9) and Anu Valia (Episodes 5, 6, 7) with Jessica Gao as head writer, "She-Hulk: Attorney at Law" follows Jennifer Walters as she navigates the complicated life of a single, 30-something attorney who also happens to be a green 6-foot-7-inch superpowered hulk. The nine-episode series welcomes a host of MCU vets, including Mark Ruffalo as Smart Hulk, Tim Roth as Emil Blonsky/the Abomination, and Benedict Wong as Wong. The cast also includes Ginger Gonzaga, Josh Segarra, Jameela Jamil, Jon Bass and Renée Elise Goldsberry. Executive producers are Kevin Feige, Louis D'Esposito, Victoria Alonso, Brad Winderbaum, Kat Coiro and Jessica Gao. Co-executive producers are Wendy Jacobson and Jennifer Booth.
THREE THOUSAND YEARS OF LONGING – In Theaters August 31st
Dr Alithea Binnie (Tilda Swinton) is an academic – content with life and a creature of reason. While in Istanbul attending a conference, she happens to encounter a Djinn (Idris Elba) who offers her three wishes in exchange for his freedom.
This presents two problems. First, she doubts that he is real and second, because she is a scholar of story and mythology, she knows all the cautionary tales of wishes gone wrong. The Djinn pleads his case by telling her fantastical stories of his past. Eventually she is beguiled and makes a wish that surprises them both.
Bros – In Theaters September 23rd
This fall, Universal Pictures proudly presents the first romantic comedy from a major studio about two gay men maybe, possibly, probably, stumbling towards love. Maybe. They're both very busy.
From the ferocious comic mind of Billy Eichner (Billy on the Street, 2019's The Lion King, Difficult People, Impeachment: American Crime Story) and the hitmaking brilliance of filmmakers Nicholas Stoller (the Neighbors films, Forgetting Sarah Marshall) and Judd Apatow (The King of Staten Island, Trainwreck, The Big Sick), comes Bros, a smart, swoony and heartfelt comedy about finding sex, love and romance amidst the madness.
Starring Billy Eichner, the first openly gay man to co-write and star in his own major studio film, Bros is directed by Nicholas Stoller from his screenplay with Eichner. The film is produced by Judd Apatow, Stoller and Joshua Church (co-producer Trainwreck, Step Brothers). The film is executive produced by Eichner.
DETAILS REVEALED ABOUT DISNEY AND PIXAR'S "ELEMENTAL" – RELEASES JUNE 16, 2023
Pixar Animation Studios revealed details about its 27th feature film, "Elemental," which will release on June 16, 2023. Directed by Peter Sohn ("The Good Dinosaur," "Partly Cloudy" short) and produced by Denise Ream ("The Good Dinosaur," "Cars 2"), the film journeys alongside an unlikely pair, Ember and Wade, in a city where fire-, water-, land- and air-residents live together. The fiery young woman and the go-with-the-flow guy are about to discover something elemental: how much they actually have in common.
"Elemental" is an original film inspired by Sohn's childhood in New York. "My parents emigrated from Korea in the early 1970s and built a bustling grocery store in the Bronx," said the director. "We were among many families who ventured to a new land with hopes and dreams—all of us mixing into one big salad bowl of cultures, languages and beautiful little neighborhoods. That's what led me to 'Elemental.'
"Our story is based on the classic elements—fire, water, land and air," Sohn continued. "Some elements mix with each other, and some don't. What if these elements were alive?"
PRODUCTION IS UNDERWAY IN ATLANTA FOR MARVEL STUDIOS' SERIES "ECHO" COMING TO DISNEY+ IN 2023
Production is underway in Atlanta on Marvel Studios' "Echo," a series streaming exclusively on Disney+ in 2023. Alaqua Cox ("Hawkeye") stars as the unforgiving Maya Lopez, who made her MCU debut in 2021 in Marvel Studios' "Hawkeye" as a deaf gang leader who was determined to make Ronin aka Clint Barton pay for his own vengeful deeds. First-look image is now available.
Streaming exclusively on Disney+ in 2023, the origin story of Echo revisits Maya Lopez, whose ruthless behavior in New York City catches up with her in her hometown. She must face her past, reconnect with her Native American roots and embrace the meaning of family and community if she ever hopes to move forward. "Echo" also stars Chaske Spencer ("Wild Indian," "The English"), Tantoo Cardinal ("Killers of the Flower Moon," "Stumptown"), Devery Jacobs (FX's "Reservation Dogs," "American Gods") and Cody Lightning ("Hey, Viktor!" "Four Sheets to the Wind"), with Graham Greene ("1883," "Goliath") and Zahn McClarnon ("Dark Winds," FX's "Reservation Dogs").
Episodes of the series are directed by Sydney Freeland (Navajo) and Catriona McKenzie (Gunaikurnai). Executive producers are Kevin Feige, Louis D'Esposito, Victoria Alonso, Brad Winderbaum, Stephen Broussard, Richie Palmer, Marion Dayre and Jason Gavin (Blackfeet). Co-executive producers are Amy Rardin, Sydney Freeland, Christina King (Seminole) and Jennifer Booth.