There is a lot happening in the entertainment industry daily and sometimes, we just don't have time to put them on the site or on social media. So why not create a weekly rundown of changes, updates, and exciting news you may want to know about upcoming movies, shows, and more? Find the latest reviews in one location, what you should be streaming, and more in one quick place.
Free Movie Screenings:
Feb 15: Dog
Feb 22: A Madea Homecoming
Movie and Series Reviews
Movie Updates, Trailers and More:
Focus Features, Peacock and Jordan Peele's Monkeypaw Productions Acquire Sundance Breakout Comedy Honk For Jesus. Save Your Soul.
Focus Features, Peacock, and Monkeypaw Productions announced today the acquisition of all worldwide rights to the hit comedy HONK FOR JESUS. SAVE YOUR SOUL., which was a breakout hit at the 2022 Sundance film festival and will premiere in theaters and on Peacock later this year. Filmmaking sibling duo the Ebo twins, writer-director Adamma Ebo and producer Adanne Ebo, make their feature film debut with production company Pinky Promise in this adaptation of their previous short film of the same name. This comedic satire features stellar performances from Regina Hall (Support the Girls, Girls Trip) and Sterling K. Brown ("This Is Us", "American Crime Story: The People v. O.J. Simpson").
"Adamma and Adanne's fresh, unique voices deliver such an authentic, hilarious and searing experience. Their vision coupled with the talents of Regina and Sterling deserved all the acclaim Sundance audiences gave it," said Focus Features chairman Peter Kujawski. "I am so thrilled that we get to bring the film to worldwide audiences with Peacock and Monkeypaw."
HONK FOR JESUS. SAVE YOUR SOUL. is produced by Academy Award® winner Daniel Kaluuya through his production company 59% with Rowan Riley and Amandla Crichlow, alongside Adamma Ebo, Adanne Ebo, Kara Durrett, Pinky Promise's Jessamine Burgum and Matthew Cooper, and Regina Hall and Sterling K. Brown.
"We are excited to partner with Focus Features and Monkeypaw to bring HONK FOR JESUS. SAVE YOUR SOUL. to Peacock customers day-and-date with its theatrical release," said Val Boreland, Executive Vice President, Content Acquisition, NBCUniversal Entertainment, Television and Streaming. "We continue to expand the Peacock catalog with fresh stories from new creators like the Ebo twins, whose feature film debut already has Sundance audiences buzzing and is certain to delight viewers everywhere with its magnetic mix of satirical humor and drama."
Monkeypaw's president Win Rosenfeld said, "Central to Monkeypaw's mission is working with emerging filmmakers who are telling fresh and disruptive stories in mischievous new ways. We are so fortunate that the brilliant Adamma and Adanne Ebo have chosen to partner with us on the release of their hilarious HONK FOR JESUS, SAVE YOUR SOUL. They're master satirists and have found both humor and heart in this fierce and provocative critique of hypocrisy."
In HONK FOR JESUS. SAVE YOUR SOUL., proud first lady of a Southern Baptist megachurch, Trinitie Childs (Regina Hall) carries immense responsibility on her shoulders. After a scandal involving her husband, Pastor Lee-Curtis Childs (Sterling K. Brown), the church is forced to close temporarily, leaving Trinitie struggling to manage the aftermath. Now Trinitie and Lee-Curtis must rebuild their congregation and reconcile their faith by all means necessary to make the biggest comeback that commodified religion has ever seen.
Writer/Director Adamma Ebo and Producer Adanne Ebo state, "We're so unbelievably blessed and hyped to be partners with Focus and Monkeypaw on our first feature film. Their commitment to our vision as filmmakers and bolstering the film as a whole is amazing and we cannot wait to bring it to the world with this team."
Pinky Promise founder and CEO, Jessamine Burgum also expressed, "I am thrilled to collaborate alongside Adamma and Adanne Ebo and see that their creative vision has been realized. Focus Features and Monkeypaw Productions have an eye for incredible storytelling and for them to appreciate the nuances of HONK FOR JESUS, truly makes for the best partnership I could have ever imagined. Regina Hall and Sterling K. Brown delivered unforgettable performances that I can't wait for audiences to witness; I'm giddy just thinking about it!"
The deal for the film was negotiated by UTA Independent Film Group who represents the Ebo Twins and Pinky Promise, and brokered the deal with CAA and ICM. Monkeypaw is represented by CAA and Jared Levine.
HOUSE OF GUCCI Digital and Home Release – February 22nd
Experience the "gloriously decadent" (Lindsey Bahr, Associated Press) and "murderously delicious" (Jazz Tangcay, Variety) thriller influenced by the astounding real-life story of the Gucci family and their unexpected legacy in MGM's HOUSE OF GUCCI, available to own for the first time on Digital now and on Blu-ray™, DVD and On Demand February 22, 2022 from Universal Pictures Home Entertainment.
Directed by four-time Academy Award® nominee Ridley Scott (The Martian, The Gladiator), the captivating star-studded film about the iconic Italian fashion house has been nominated for over 65 awards to-date including an Academy Award®, four Critic's Choice Awards®, three SAG Awards® and three BAFTA Awards®. Showcasing incredibly powerful and emotional performances from Academy Award® winner Lady Gaga (A Star Is Born) as Patricia Reggiani and Academy Award® nominee Adam Driver (The Last Duel, Star Wars franchise) as Maurizio Gucci, the film features an extraordinary ensemble cast including Academy Award® winner Jared Leto (Dallas Buyers Club, Suicide Squad), Academy Award® winner Jeremy Irons ("The Borgias," Justice League), Jack Huston (American Hustle), Academy Award® nominee Salma Hayek (Eternals, Hitman's Wife Bodyguard) and Academy Award® winner Al Pacino (The Irishman, Once Upon a Time in Hollywood).
Based on The New York Times best-selling novel, The House of Gucci: A Sensational Story of Murder, Madness, Glamour, and Greed by Sara Gay Forden, HOUSE OF GUCCI on Blu-ray™, DVD and Digital comes with all-new exclusive bonus content including behind-the-scenes featurettes about Lady Gaga's magnificent transformation into Patrizia Reggiani, director Ridley Scott's brilliant vision, the creation of the luxurious wardrobes and extravagant sets, and more taking audiences deeper into the fascinating untold story behind the world-renowned fashion brand and crumbling family empire.
HOUSE OF GUCCI is inspired by the shocking true story of the family behind the Italian fashion empire. When Patrizia Reggiani (Lady Gaga), an outsider from humble beginnings, marries into the Gucci family, her unbridled ambition begins to unravel the family legacy and triggers a reckless spiral of betrayal, decadence, revenge, and ultimately…murder.
Nightmare Alley Appears on Digital March 8 and 4K Ultra HD™, Blu-ray™ and DVD on March 22
From the imaginative filmmaker Guillermo del Toro and Searchlight Pictures arrives an electrifying film noir,Nightmare Alley. Available on Digital March 8 and on 4K Ultra HD, Blu-ray and DVD on March 22.
The suspenseful psychological thriller is nominated for 4 Academy Awards® including Best Picture, 8 Critics' Choice Awards, a Screen Actors' Guild Award for Supporting Actress for Cate Blanchett, and BAFTA, SDSA, MPSE, ADG, CDG, VES, and WGA Awards.
Film Synopsis
When charismatic but down-on-his-luck Stanton Carlisle (Bradley Cooper) endears himself to clairvoyant Zeena (Toni Collette) and her has-been mentalist husband Pete (David Strathairn) at a traveling carnival, he crafts a golden ticket to success, using this newly acquired knowledge to grift the wealthy elite of 1940s New York society. With the virtuous Molly (Rooney Mara) loyally by his side, Stanton plots to con a dangerous tycoon (Richard Jenkins) with the aid of a mysterious psychiatrist (Cate Blanchett) who might be his most formidable opponent yet.
Del Toro co-wrote the enthralling film with Kim Morgan, based on William Lindsay Gresham's novel.
Tethered – March 18th in Theaters and On Demand
In the remote woods of North Carolina, a blind teenager named Solomon lives by himself in total isolation. Despite his impairment, Solomon is able to navigate his surroundings by tying a long rope around his waist that stays tethered to the cabin where he lives. Armed with only his tether, Solomon survives by fishing, foraging, and trapping small animals for food. His only other stimulation is a tape recorded message containing three mysterious rules: The First Rule: When you hunt or scavenge, do it for two—one for the forest and one for you.The Second Rule: When your will is almost gone and you feel like giving up, find comfort in singing our song.The Third Rule: You must never, ever let go of the rope.
The Lost City – New Poster and Trailer – In Theaters March 25th
Brilliant, but reclusive author Loretta Sage (Sandra Bullock) has spent her career writing about exotic places in her popular romance-adventure novels featuring handsome cover model Alan (Channing Tatum), who has dedicated his life to embodying the hero character, "Dash." While on tour promoting her new book with Alan, Loretta is kidnapped by an eccentric billionaire (Daniel Radcliffe) who hopes that she can lead him to the ancient lost city's treasure from her latest story. Wanting to prove that he can be a hero in real life and not just on the pages of her books, Alan sets off to rescue her. Thrust into an epic jungle adventure, the unlikely pair will need to work together to survive the elements and find the ancient treasure before it's lost forever.
SONIC THE HEDGEHOG 2 – Pre-Game Spot – In Theaters April 8th
The world's favorite blue hedgehog is back for a next-level adventure in SONIC THE HEDGEHOG 2. After settling in Green Hills, Sonic is eager to prove he has what it takes to be a true hero. His test comes when Dr. Robotnik returns, this time with a new partner, Knuckles, in search for an emerald that has the power to destroy civilizations. Sonic teams up with his own sidekick, Tails, and together they embark on a globe-trotting journey to find the emerald before it falls into the wrong hands. From the filmmakers behind The Fast and the Furious and Deadpool, SONIC THE HEDGEHOG 2 stars James Marsden, Ben Schwartz as the voice of Sonic, Tika Sumpter, Natasha Rothwell, Adam Pally, Lee Majdoub and Jim Carrey returning, alongside new additions Shemar Moore, with Idris Elba as the voice of Knuckles and Colleen O'Shaughnessey as the voice of Tails.
The Kardashians – April 14th on Hulu
The family you know and love is here with a brand new series, giving an all access pass into their lives. Kris, Kourtney, Kim, Khloé, Kendall and Kylie bring the cameras back to reveal the truth behind the headlines. From the intense pressures of running billion-dollar businesses to the hilarious joys of playtime and school drop-offs, this series brings viewers into the fold with a rivetingly honest story of love & life in the spotlight.
THEY CALL ME MAGIC – April 22nd Apple TV+
Apple TV+ announced "They Call Me Magic," the highly anticipated four-part documentary event that takes an illuminating, holistic look into the life and career of Earvin "Magic" Johnson, one of the world's most iconic figures, will premiere April 22 on Apple TV+.
"They Call Me Magic" offers a rare glimpse into the incredible real life story of Johnson, who left his mark on history through his work—both on and off the court—and continues to impact our culture today.
With unprecedented access, the docuseries explores Earvin "Magic" Johnson's remarkable journey from being the face of the Los Angeles Lakers and cementing himself as an all-time NBA legend, to changing the conversation around HIV, and transforming into a successful entrepreneur and community activist. From his humble beginnings in Lansing, Michigan to becoming the global force he is today, "They Call Me Magic" features intimate interviews with Magic, his family, and an all-star lineup, as the docuseries charts the cinematic life of one of the biggest cultural icons of our era.
Directed by Rick Famuyiwa ("Dope") with editor Dirk Westervelt ("Ford v. Ferrari") and cinematographer Rachel Morrison ("Black Panther"), the docuseries is produced for Apple by XTR and New Slate Ventures, and produced in association with H.Wood Media and Delirio Films.
Conversations with Friends – Hulu in May
Check out Hulu's teaser for upcoming original limited series "Conversations with Friends" based on Sally Rooney's best-selling novel starring Alison Oliver, Sasha Lane, Joe Alwyn, and Jemima Kirke. "Conversations with Friends" premieres with all 12 episodes on Hulu and BBC Three in May 2022.
"Conversations with Friends" follows Frances (Alison Oliver), a 21 year old college student, as she navigates a series of relationships that force her to confront her own vulnerabilities for the first time.
Firestarter – In Theaters and Streaming only on Peacock May 13
In a new adaptation of Stephen King's classic thriller from the producers of The Invisible Man, a girl with extraordinary pyrokinetic powers fights to protect her family and herself from sinister forces that seek to capture and control her. For more than a decade, parents Andy (Zac Efron; Extremely Wicked, Shockingly Evil and Vile; The Greatest Showman) and Vicky (Sydney Lemmon; Fear the Walking Dead, Succession) have been on the run, desperate to hide their daughter Charlie (Ryan Kiera Armstrong; American Horror Story: Double Feature, The Tomorrow War) from a shadowy federal agency that wants to harness her unprecedented gift for creating fire into a weapon of mass destruction. Andy has taught Charlie how to defuse her power, which is triggered by anger or pain. But as Charlie turns 11, the fire becomes harder and harder to control. After an incident reveals the family's location, a mysterious operative (Michael Greyeyes; Wild Indian, Rutherford Falls) is deployed to hunt down the family and seize Charlie once and for all. Charlie has other plans. The film also stars Kurtwood Smith (Amityville: The Awakening, Hitchcock), John Beasley (The Purge: Anarchy, The Sum of All Fears) and Gloria Reuben (Lincoln, Mr. Robot). The Firestarter score is composed by the legendary John Carpenter (Halloween, Christine, The Fog) and his fellow Halloween franchise composers Cody Carpenter and Daniel Davies. Directed by Keith Thomas (The Vigil), from a screenplay by Scott Teems (Halloween Kills) based on the novel by Stephen King, Firestarter is produced by Jason Blum (Halloween, The Invisible Man) for Blumhouse and Oscar® winner Akiva Goldsman (I Am Legend, Constantine) for Weed Road Pictures. The film's executive producers are Ryan Turek, Gregory Lessans, Scott Teems, Martha De Laurentiis, J.D. Lifshitz and Raphael Margules.
The Orville: New Horizons Returns June 2nd
Seth MacFarlane's epic space adventure series "The Orville" returns exclusively as a Hulu original series. Set 400 years in the future, "The Orville: New Horizons" finds the crew of the U.S.S. Orville continuing their mission of exploration, as they navigate both the mysteries of the universe and the complexities of their own interpersonal relationships.
The ensemble cast includes MacFarlane, Adrianne Palicki, Penny Johnson Jerald, Scott Grimes, Peter Macon, J. Lee, Mark Jackson, Chad L. Coleman, Jessica Szohr and Anne Winters.
"The Orville: New Horizons" is produced by 20th Television and Fuzzy Door. The series was created and written by Seth MacFarlane. MacFarlane, Brannon Braga, David A. Goodman, Jon Cassar, Jason Clark and Howard Griffith serve as executive producers.
JURASSIC WORLD DOMINION – In Theaters June 10th
This summer, experience the epic conclusion to the Jurassic era as two generations unite for the first time. Chris Pratt and Bryce Dallas Howard are joined by Oscar®-winner Laura Dern, Jeff Goldblum and Sam Neill in Jurassic World Dominion, a bold, timely and breathtaking new adventure that spans the globe.
From Jurassic World architect and director Colin Trevorrow, Dominion takes place four years after Isla Nublar has been destroyed. Dinosaurs now live—and hunt—alongside humans all over the world. This fragile balance will reshape the future and determine, once and for all, whether human beings are to remain the apex predators on a planet they now share with history's most fearsome creatures.
Jurassic World Dominion, from Universal Pictures and Amblin Entertainment, propels the more than $5 billion franchise into daring, uncharted territory, featuring never-seen dinosaurs, breakneck action and astonishing new visual effects.
The film features new cast members DeWanda Wise (She's Gotta Have It), Emmy nominee Mamoudou Athie (Archive 81), Dichen Lachman (Agents of S.H.I.E.L.D.), Scott Haze (Minari) and Campbell Scott (The Amazing Spider-Man 2). The film's returning cast includes BD Wong as Dr. Henry Wu, Justice Smith as Franklin Webb, Daniella Pineda as Dr. Zia Rodriguez and Omar Sy as Barry Sembenè.
Jurassic World Dominion is directed by Colin Trevorrow, who steered 2015's Jurassic World to a record-shattering $1.7 billion global box office. The screenplay is by Emily Carmichael (Battle at Big Rock) & Colin Trevorrow from a story by Derek Connolly (Jurassic World) & Trevorrow, based on characters created by Michael Crichton. Jurassic World Dominion is produced by acclaimed franchise producers Frank Marshall p.g.a. and Patrick Crowley p.g.a. and is executive produced by legendary, Oscar®-winning franchise creator Steven Spielberg, Alexandra Derbyshire and Colin Trevorrow.
Universal Pictures and Amblin Entertainment present, in association with Perfect World Pictures, a Colin Trevorrow film. jurassicworld.co
New Lightyear Trailer and Poster
A new trailer blasts off this morning for Disney and Pixar's original sci-fi action-adventure "Lightyear." Releasing June 17, 2022, the definitive origin story of Buzz Lightyear—the hero who inspired the toy—follows the legendary Space Ranger on an intergalactic adventure. "Buzz's world was always something I was excited about," said director Angus MacLane. "In 'Toy Story,' there seemed to be this incredible backstory to him being a Space Ranger that's only touched upon, and I always wanted to explore that world further. So my 'Lighytear' pitch was, 'What was the movie that Andy saw that made him want a Buzz Lightyear toy?' I wanted to see that movie. And now I'm lucky enough to get to make it."
Joining the previously announced Chris Evans, who lends his voice to Buzz, are Keke Palmer, Dale Soules and Taika Waititi as a group of ambitious recruits. Peter Sohn voices Buzz's robot companion, Sox, and the cast also includes the voices of Uzo Aduba, James Brolin, Mary McDonald-Lewis, Efren Ramirez and Isiah Whitlock Jr. "The cast for 'Lightyear' is truly a dream team," said MacLane. "Each of the performers immediately inhabited their character, which gave us the opportunity to play a bit during recording sessions. This resulted in a level of specificity that elevated the material and brought additional depth to the characters' relationships. It has been a privilege to work with such a talented and generous cast."
Also revealed this morning, award-winning composer Michael Giacchino, who's behind the scores for the upcoming film "The Batman," as well as "Spider-Man: No Way Home," is on board to score "Lightyear." Giacchino has a long history with Pixar; he won an Oscar, Golden Globe and GRAMMY for the original score in "Up." His other Pixar credits include "The Incredibles," "Ratatouille," "Cars 2," "Inside Out," "Coco" and "Incredibles 2," among others. The Lightyear Original Motion Picture Soundtrack from Walt Disney Records will be available on June 17, 2022.
"Lightyear" is produced by Galyn Susman ("Toy Story That Time Forgot").
NOPE – Only In Theaters July 22
This Sunday, discover what's next from the mind of Jordan Peele. NOPE.
Futurama Gets New Life on Hulu in 2023
The future is looking bright for Fry, Leela and Bender at Hulu. 20th Television Animation and Hulu announced the return of Matt Groening and David X. Cohen's brilliantly subversive animated sci-fi comedy, FUTURAMA. The announcement was made today by Craig Erwich, President, Hulu Originals and ABC Entertainment and 20th Television Animation Head Marci Proietto. The order is for 20 new episodes and the series will go into production in February, with a 2023 premiere. The show's returning voice cast includes stars Billy West, Katey Sagal, Tress MacNeille, Maurice LaMarche, Lauren Tom, Phil LaMarr and David Herman.
"I'm thrilled to have another chance to think about the future… or really anything other than the present," said David X. Cohen.
"It's a true honor to announce the triumphant return of Futurama one more time before we get canceled abruptly again," commented Matt Groening.
"When presented with the opportunity to bring fans and viewers new episodes of Futurama, we couldn't wait to dive in. This iconic series helped blaze the trail for the success of adult animation since its initial launch and we look forward to Matt & David continuing to pave the way and further establishing Hulu as the premiere destination for fans of the genre," said Craig Erwich, President, Hulu Originals and ABC Entertainment.
"What I love about animation is that it's possible for a successful show to take a pause and then resume years later, even on a different platform, and pick up right where it left off. Futurama is one of those shows. The excitement from Hulu about returning Matt and David's genius creation for all-new episodes has been off the charts. I'm thrilled that this incredible team will get to tell more stories, and that our Planet Express crew will have more adventures together. It's a win for the fans who have loved the show since the beginning, and for the ones who will now discover it for the very first time," commented Marci Proietto, Head of 20th Television Animation.
First airing on FOX from 1999-2003, FUTURAMA was brought back in 2007 with four direct-to-DVD movies that subsequently aired as 30-minute episodes on COMEDY CENTRAL. Based on their success, COMEDY CENTRAL ordered new seasons of the series which made a triumphant return to television in June 2010. FUTURAMA is only the second series in the history of the medium to go back into production based on the strength of its DVD sales and repeat airings on cable. Over the course of its storied run, FUTURAMA earned six Emmy® Awards–including two Outstanding Animated Program, seven Annie Awards, two Environmental Media Awards and two Writer's Guild of America Awards. Over its seven seasons spanning two decades, 140 original episodes were produced, with the then-final episode airing on September 4, 2013.
FUTURAMA focuses on the life of Philip Fry (Billy West), a 25-year-old pizza delivery boy who accidentally freezes himself on December 31, 1999 and wakes up 1,000 years later with a fresh start at life and a "diverse" new group of friends including Leela (Katey Sagal), a tough but lovely one-eyed alien and Bender, a robot who possesses human characteristics and flaws.
FUTURAMA, created by Matt Groening and developed by Groening and David X. Cohen, is produced 20thTelevision Animation a part of Disney Television Studios, with Rough Draft Studios, Inc. contributing the animation.
Free Valentine's Day Printables
Show of your puppy love this Valentine's Day with printable valentines inspired by Clifford! Clifford The Big Red Dog is on Digital, Blu-ray and DVD now! https://bit.ly/CliffordValentines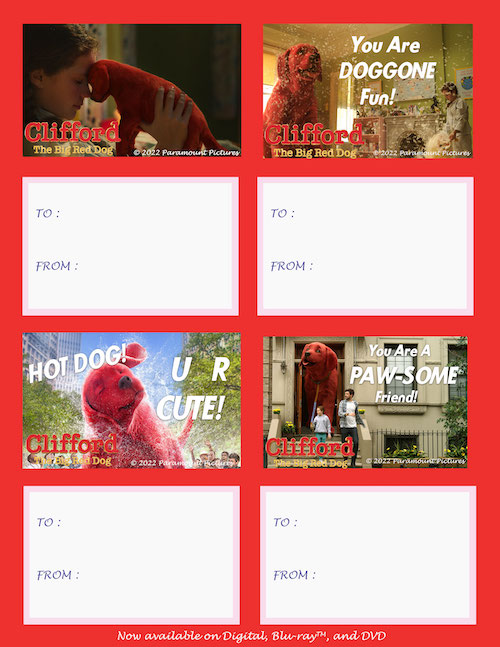 Want to become an MVP this Valentine's Day? Share these American Underdog football themed Valentine's Day cards! The inspiring story is out on digital now and on 4K, Blu-ray and DVD February 22! https://bit.ly/AmericanUnderdogValentines