We all know that going to the Dentist is something that we should be doing at least once a year (ideally every 6 months). But when was the last time you actually saw your dentist? It might be the fear of drills and the idea of some of the practices we grew up getting (that are now outdated) that kept us from that dentist chair – but more often than not it's the cost of the procedures.
I won't lie, it's been years since I've seen my Dentist – and the reason is I haven't had dental insurance. Visiting a doctor is a must and I've paid out of pocket for that for years, but the Dentist can be skipped. That is until you really need them of course.
A few years ago, I learned a very important lesson – never bite your nails! This, is of course, something that our parents tell us for years. But I was driving home one day and bit my thumb nail and something happened – I broke my tooth! For years my nails hadn't been strong enough to open plastic on a packaging and suddenly they could break my teeth? After some calling around I was able to get an appointment in to a local dentist but that that one mistake – cost me over $200 to get fixed – out of pocket that day. Needless to say, I've never bit my nails again!
The cost of dental work out of pocket… is not something you want to pay. But dental health is extremely important. Often, your teeth can be one of the first indicators of other health problems – including ones during pregnancy, and Dentists can give you the heads up and send you to the the appropriate doctor for care.
But beyond that – your smile is important! It's the first thing that friends and family see when you greet them. What can help you land a job and really what exudes your happiness when you look back at pictures from those trips with friends over the years. Proper dental care can help you with that!
So what do you do if you don't have dental insurance? It's time to look for alternative dental plans for you and your family like Smile Health Dental Plans. Not only can you get your procedures covered at a much lower rate, but you can get reduced copays and more. They have come up with one of the most simple and affordable Dental plans on the market, and ones that can help you keep that smile your family loves!
Smile Health Dental Plans has 8 great tips for Your Smile Health = Your Body Health PDF to save your smile and your life.
It's true. It's not only what we put in our mouth that matters but how we take care of it, that leads to a healthy heart, mind and body. Good oral health can limit your exposure to heart disease, stroke and memory loss. This is why it's so important to start taking care of your oral health early, a healthy mouth equals a healthy you!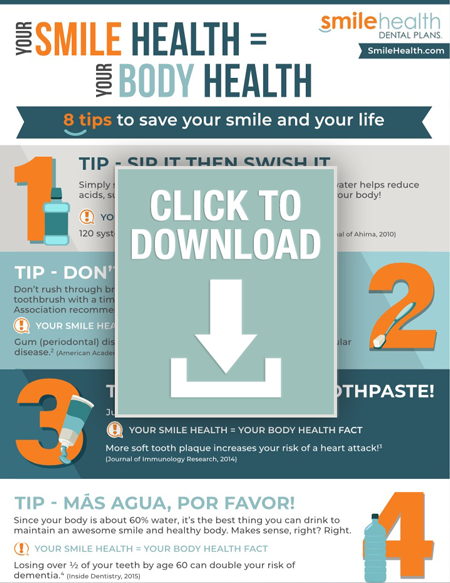 Looking to keep your smile the best it can be? We have a great giveaway from Smile Health Dental Plans. One lucky reader will win:
1 – Oral B Vitality Electric Toothbrush
1 – Crest Pro-Health Toothpaste Travel Size 
1 – Oral B Glide Floss 
1 – Crest Pro-Health Multi-Protection Oral Rinse 
1 – Smile Health = Body Health PDF pamphlet
How Can You Win?
Enter to win with the form below. Share your best dental tip or what you do to ensure your smile stays healthy and great!
Each household is only eligible to win "Your Smile Health = Your Body Health" Care Kit via blog reviews and giveaways. Only one entrant per mailing address per giveaway. If you have won the same prize on another blog, you will not be eligible to win it again. Winner is subject to eligibility verification.