Spot the Differences with this Fun New Croods Printable Game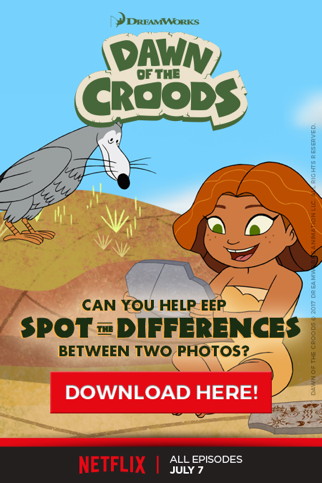 It's time to head back to the prehistoric times with the Croods! The 4th season debuted on Netflix last week, and their adventures are just starting. Things get even more complicated for our first family as the Croods witness the first-ever "try-all", attempt to make peace with the conniving Broods & other beastly neighbors, and face a fast-approaching meteorite that could lead to ultimate doom! The Croods encounter more terrifyingly strange creatures including the hybrid babies of the massive Tyrannoconda and giant Chickuna, and "Beary" the Bear Owl cub as they tackle new prehistoric adventures and more surprises in Season 4 of Dawn of the Croods, only on Netflix now!
To celebrate the new season, DreamWorks Animation and Netflix have released a fun Spot the Difference game you can download. Just click the image above and save the PDF to print out your copy. Don't forget to tune in now to watch season 4, and binge watch all of the episodes!
Check out a clip from the new season below:
EEP EXPLAINS IT ALL: