It's not often that a kids movie is not only completely family friendly, but also one that your whole family will love. After the original Norm of the North movie was such a fan favorite for kids, the characters are back with Keys to the Kingdom.
Norm, the newly crowned polar bear king of the Arctic, travels to New York to accept the keys to the city. But Norm goes from hero to villain when he's framed for a crime he didn't commit! While he is trying to clear his good name, back in the Arctic a vicious bottled-water company has moved in and is starting to steal the ice. Norm must rely on his friends, both old and new, to clear his good name and help save his kingdom in a winner take all hockey match. 
With adorable animation, and a fun new characters Norm of the North: Keys to the Kingdom is the winter adventure we have been waiting for. Earning the Dove Family Foundation for safe movies, Keys to Kingdom may be just the movie you want to be have on repeat for your little ones.
Get your copy of Norm of the North: Keys to the Kingdom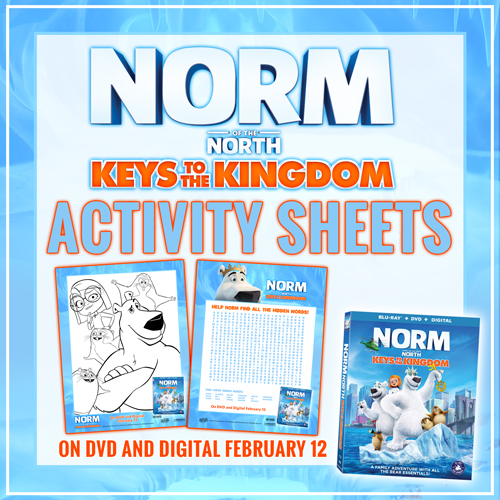 About Norm of the North: Keys to the Kingdom:
A family adventure with all the bear essentials comes home when Norm of the North: Keys to the Kingdom arrives on DVD and Digital February 12 from Lionsgate. This film is currently available On Demand. This Dove Family-Approved sequel to the 2016 animated hit Norm of the North not only brings back Norm (the newly crowned polar bear king of the Arctic), but it also introduces all-new characters going on all-new, wild adventures. Perfect for the entire family, the Norm of the North: Keys to the Kingdom DVD will be available for the suggested retail price of $19