If you've ever been to one of the Disney Parks you no doubt have fallen in love with a pair of ears…or five. Our budgets don't allow us to buy every set, and you may want specific ones that they do not make. Don't worry, we have an adorable DIY Minnie ears craft so you can make your own! Inspired by Minnie Mouse and the Happy Helpers, you can easily make your own set and be ready for your next Disney event or to sit down and watch your favorite Disney film.
Disney Junior presents Minnie: Bow Be Mine available now on Disney DVD! Grab your microphone and sing your heart out! MINNIE: BOW BE MINE is on DVD today and we've got the guide to help you make your very own DIY Minnie Ears and Bow! Check it out and be a star!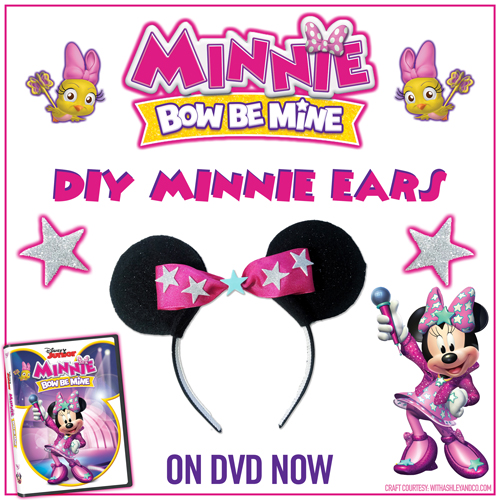 About Minnie Bow Be Mine:
As the Happy Helpers from Mickey and the Roadster Racers, BFFs Minnie and Daisy take center stage as they tackle super-tough tasks and help friends who need a hand: judging a surfing contest in Hawaii, solving a doozy of a mystery, photographing a rare rainforest bird and much more! Then, watch Minnie rock out onstage at Hot Dog Hills Stadium! Featuring two bonus music videos, Bow Be Mine amps up the fun to a whole new level of awesome.
Episodes include:
Super-Charged:Pop Star Helpers
Meet the Beagles!
Daisy's Photo Finish!
The Hot Diggity Dog Show
The Hiking Honeybees
Thrillin' Hilda!
Teed Off (Season 1)
Grandpa vs. Grandpa
Cuckoo in Paris
Tree House Trouble
My Fair Pete
A Doozy Night of Mystery