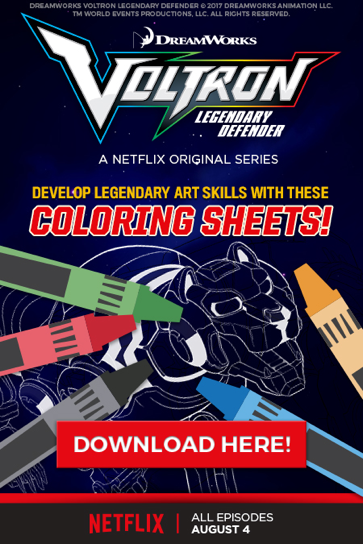 The Universe is safe now that Voltron is back. Season 3 of Voltron Legendary Defender launched on Netflix on Friday with seven new episodes for all of us to enjoy. We're having a blast with the new season and now DreamWorks and Netflix have released a set of great coloring sheets for the new season. Find coloring sheets for all of your favorite Paladins and their trusty Lions as well. All you have to do is click the image above to print out your coloring sheets, save the file and print as many as you want! And check out season 3 of Voltron Legendary Defender now on Netflix!
About Voltron Legendary Defender Season 3:
DreamWorks Voltron Legendary Defender Season 3 is available on Netflix NOW with seven all-new episodes. In the wake of Zarkon's defeat and Shiro's disappearance, the paladins struggle to move forward with no one able to pilot the black lion or the ability to form Voltron. The team must quickly devise a plan as the ascension of Prince Lotor and his generals pulls the team into a perilous game of cat-and-mouse that tests their unity and abilities more than ever before.