Get Your Comic-Con Survival Guide Here!
Are you heading to San Diego's Comic-Con this week? It can be overwhelming but we have the inside track on what's going on! Team Click created the ultimate guide to this year's event!
About the guide:
Since Click's beginnings, we have made an annual effort to ease the pain of sensory overload from themed pedicabs, building wraps, street teams, activations, and panel after panel, by assembling a handy, fun-to-read guide of all the films and TV shows we might catch a glimpse of while walking mile after mile in the blazing San Diego sun.

In addition to movies & TV, we also have some fun features—an exclusive toy round-up w/ booth locations, comic book suggestions for fans and soon-to-be-fans, guides on surviving various disasters, and more!

At 48 pages, it's also an excellent time-waster for all those moments where you'll be waiting (and waiting and waiting) to get into various panels.
Want a copy and the inside info on everything you can expect at this this year's Comic-Con? Click the image below to download your copy here!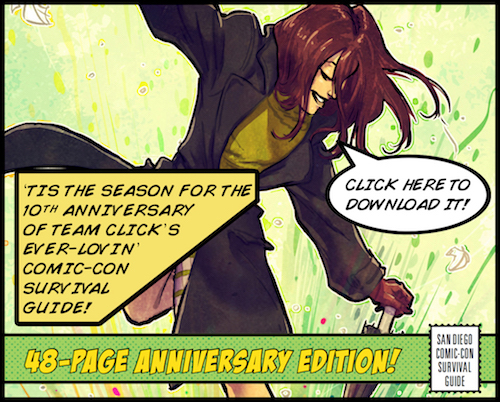 The following two tabs change content below.
Becky is Content Creator in metro-Detroit. She is also an interior designer, a former adjunct professor, a gluten free foodie, and world traveler. Week99er is a lifestyle site featuring real life reviews of the latest in entertainment, technology, travel destinations and even set visits. Her Youtube channel gives in depth reviews and travel videos. Contact her at
[email protected]