Free Summer Road Trip Activities from DreamWorks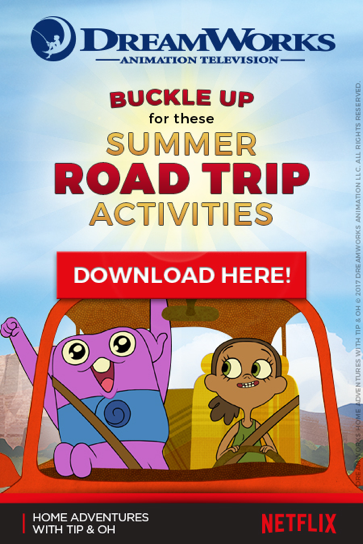 It wouldn't be summer without a road trip or two. And while the kids may be sitting in the back seat fighting, poking each other or playing punch buggy – you always need to come prepared with something for them to do! Our friends at Dreamworks Animation has put together this great packet of printable activities to keep kids of all ages busy while on the go.
Inside the package you'll find Dawn of the Croods Spot the Differences, DinoTrux Find It. See It. Check It., Dragons Race to the Edge Match the Dragons to the Riders, Home: Adventures with Tip & Oh, A Word Search from The Adventures of Puss in Boots, Spirit Riding Free – How to Make a Friendship Frame, Friendship Bracelets, maze and word search. There are coloring sheets from Voltron Legendary Defender and Spirit Riding Free.
All you have to do is bring the crayons, and print out the fun games! Just click the image above and save the PDF to print whenever you want and how many copies you want. Your kids will be busy and happy in the back seat while you travel this summer.