What would you do if you found a Yeti on your roof? Would you scream or would you befriend him and help him find his way home? In the new DreamWorks animated film Abominable you get an epic adventure of friendship and finding your true place in the world.
While Abominable seems like the latest in a long line of Yeti themed movies to come out recently, and even includes bad guys that are similar to the other movies – it has something that others don't – a lot of heart. The story is a bit easier for younger viewers to relate to and at the heart of it all is a message of acceptance and friendship. The animation is the level that we have grown to expect from DreamWorks and it has a deeper story that will make adults fall in love with the film as well.
With a great story, adorable characters and more Abominable is the perfect story for your family this holiday season and it's finding its way home this month. Get your copy of Abominable on Blu-Ray, DVD and Digital HD on December 17th or pre-order your copy now.
Make your night an Abominable Movie Night with this awesome party kit filled with tons of downloadable activities, coloring sheets, and more! Download it at http://bit.ly/AbominableMovieNight ABOMINABLE is on Digital now and arrives on 4K Ultra HD™, Blu-ray™ & DVD 12/17!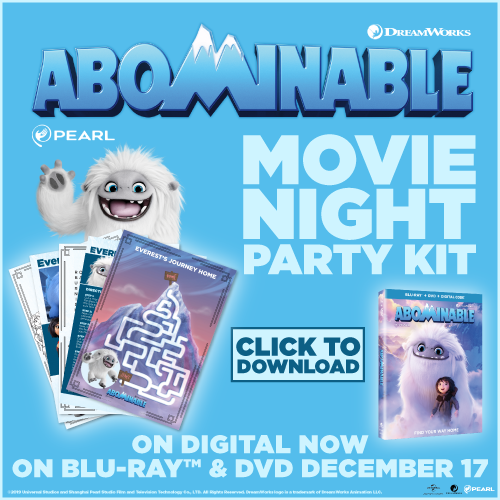 About Abominable:
From the studio that brought you How to Train Your Dragon, this heartwarming and humorous story follows teenage Yi (Bennet) as she encounters a young Yeti on the roof of her apartment building in China, she and her mischievous friends, Jin (Trainor) and Peng (Tsai), name him "Everest" and embark on an epic quest to reunite the magical creature with his family at the highest point on Earth. But the trio of friends will have to stay one-step ahead of Burnish (Izzard), a wealthy man intent on capturing a Yeti, and zoologist Dr. Zara (Paulson) to help Everest get home. 
This magical journey is brought to life with the voice talents of Chloe Bennet ("Marvel's Agents of S.H.I.E.L.D"), Golden Globe® and Emmy® Award winner Sarah Paulson ("American Horror Story"), Eddie Izzard (Cars 2), Tenzing Norgay Trainor ("Liv and Maddie"), Albert Tsai ("Fresh Off the Boat"), Tsai Chin (The Joy Luck Club) and Michelle Wong ("Scandal"). It is written and directed by Jill Culton (Open Season, Toy Story 2, Monsters, Inc.) and co-directed by Todd Wilderman (Open Season 2).  The film is produced by Suzanne Buirgy and Peilin Chou.