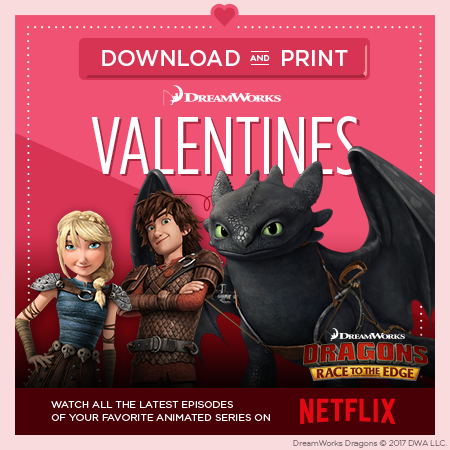 Tomorrow's the big day – are you ready!? Valentine's Day! That means parties at school, kids handing out cards and adorable treats (let's hope there isn't too much sugar coming home). But you may not have had time to run out for cards, and tonight may be busy too. Don't worry, we have some fun printable cards from DreamWorks Dragons: Race to the Edge you can print out. Just click on the image above and save the PDF. Print to a card stock and cut out. You can use what you already have around the house, and print out just the amount you need, in a few minutes – everything is ready and your kids have cards to hand out to their friends! See how simple that is?
DreamWorks Dragons Race to the Edge comes back for it's 4th season on Friday the 17th – check out some more information about the show and the Season 4 Trailer below:
About DreamWorks Dragons: Race to the Edge Season 4:
The fate of Hiccup and the Dragon Riders is left in the hands of the mysterious Mala and the Defenders of the Wing, as they work to prove their innocence and create an unlikely alliance. With his elaborate and sinister plans beginning to take shape, Viggo will stop at nothing to get the Riders out of his way, including putting a pricey bounty on Hiccup's head. The battle against the Dragon Hunters rages on when Season 4 of DreamWorks Dragons: Race to the Edge premieres exclusively on Netflix February 17.