Dinotrux Road Trip Check List + Season 5 Clip #dinotrux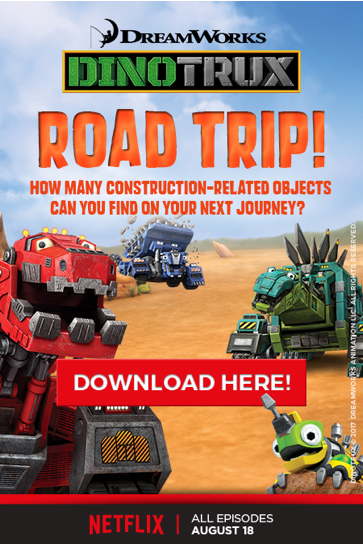 Road trips are a lot of fun, but has the show Dinotrux seeing those construction equipment a little differently? We don't just see a crane anymore, and that bulldozer may have a life of it's own in there! Dinotrux has found a way into our home and hearts, and now the fifth season is kicking off on Netflix. After building an epic bridge and fending off D-Structs and his crew of bad guys once again, all is well in the crater, and the Dinotrux are back to their daily builds and wild adventures.  But when an enormous threat hits the valley, the Dinotrux must put their differences aside and work together with D-Structs to protect their home and all of their neighbors.  The all-new 5th Season of DINOTRUX premieres today only on Netflix! And don't forget to click the image above to print out a checklist that will make road trips more fun with your kids. Check off what you see n the way, and maybe they'll see some Dinotrux and Reptools!
Check out a clip from Season 5 here!