Ready to fight evil with your best friends? All while battling growing up and finding your place in highschool? You're in good company! That's exactly what Kim Possible is going through and you can watch it over and over again in this fun new live-action version of the cartoon we all love. And to celebrate, we have a fun printable DIY where you can make your own DIY Pendant Necklace.
So, what's the sitch? Save the world like Kim Possible in a cool, new Kim Possible Pendant Necklace! Make it yourself while you watch the Live-Action Kim Possible movie on DVD today! Just click on the button below and download your instructions!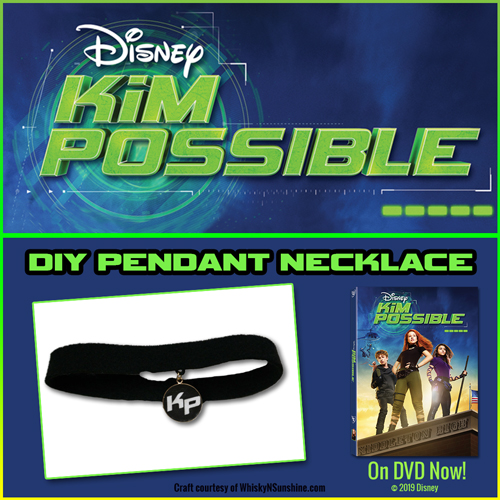 Loaded with bonus content and a family friendly show you don't have to worry about your kids watching. Fans of the original cartoon wont be disappointed in the film, and you will be happy with how they handled the characters. With relatable characters for young and older viewers, it will quickly become one of your favorites to watch with the family.
Bonus Features include:
Blooper Reel (DVD exclusive)
Q&A with Sadie Stanley and Sean Giambrone (DVD exclusive)
Cast Auditions (DVD exclusive)
-Sadie Stanley
-Sean Giambrone
-Issac Ryan Brown
Music Video
Trailer
The Kim Possible Movie has a total runtime of 86 minutes without the bonus feature and is rated TV-G. You can get your copy of Kim Possible on DVD everywhere today!
About Kim Possible
Based on the global hit animated series, the live-action "Kim Possible" Disney Channel Original Movie follows everyday teen hero Kim Possible and best friend and sidekick Ron Stoppable as they embark on their freshman year of high school, all while saving the world from evil villains. By their side every step of the way is teen tech-genius Wade and new friend Athena, who also happens to be a Kim Possible super fan and is eager to join Team Possible. While Kim and Ron have always been one step ahead of their opponents, navigating the social hierarchy of high school is more challenging than the action-hero ever imagined. With Drakken and Shego lurking in the wings, Kim must rely on her family and friends more than ever. Now it's up to Team Possible—Kim, Ron, tech-genius Wade, new friend Athena and Rufus, a naked mole-rat that Ron meets along the way—to stop these super villains.
Cast:
Sean Giambrone as Ron Stoppable, Ciara Wilson as Athena, Todd Stashwick as Drakken, Taylor Ortega as Shego, Alyson Hannigan asDr. Ann Possible, Connie Ray as Nana Possible, Issac Ryan Brown as Wade Load, Erika Tham as Bonnie Rockwaller and Nancy Cartwright as Rufus. Special appearances by Christy Carlson Romano and Patton Oswalt.