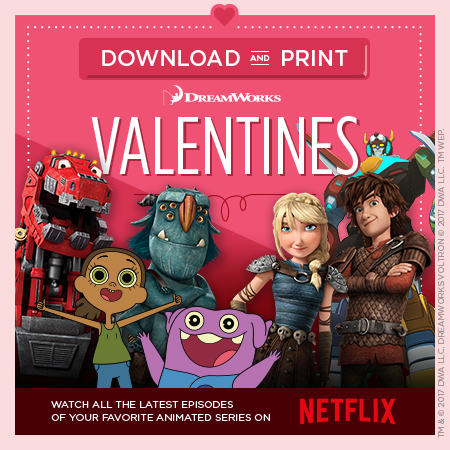 We're just over a week from Valentine's Day and pretty soon you're going to have the cards and goodies ready for the kids to take to school. If you're buying sweets, making goodies or having your own party – you know the cards are a must have. This year, DreamWorks has created another round of free printable Valentine's Day cards you can get. This year's cards include DinoTrux, Home:Adventures with Tip and Oh, Voltron, Dragons Race to the Edge and Trollhunters. Basically, any of the shows your kids love right now!
All you have to do is click the image above and save the PDF. Print out the pages you want and cut them out for a quick giveaway at school. Why pay for the cards when you can print them at home? You're sure to get your kids favorite characters this way too!
Need more DreamWorks Valentine's card options? Check out the ones we have from last year with DinoTrux, Peabody and Sherman and Dragons Race to the Edge.