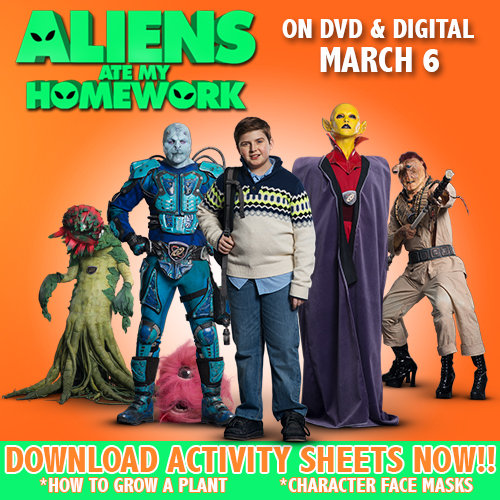 We all read Aliens Ate my Homework in junior high or earlier, the book series are a fun introduction to sci-fi and one that will make kids laugh. Now, the story has been made into a movie and will have you laughing again. Aliens Ate My Homework is now available everywhere on DVD and you can share the story with the kids in your family. To celebrate the release we have fun printable activity sheets for the movie including how to grow your own alien plant and character face masks. Just click the image above to save the PDF and print them out whenever you're ready for your own viewing party.
Not familiar with the film? Check out the trailer and more about it below!
Aliens Ate My Homework Official Trailer:

About Aliens Ate My Homework:
Unexpected extraterrestrial guests team up with a pair of middle schoolers to prevent the destruction of the planet in Aliens Ate My Homework, coming to DVD, Digital and On Demand on March 6, 2018, from Universal 1440 Entertainment, a production entity of Universal Pictures Home Entertainment. A humorous and suspenseful intergalactic adventure, Aliens Ate My Homework follows the whimsical members of the Galactic Patrol on the trail of an evil alien criminal hiding out on Earth.

Based on the first book in prolific author Bruce Coville's globally renowned "Galactic Patrol" series published by Aladdin Books, an imprint of Simon and Schuster Children's Publishing, Aliens Ate My Homework features the voice of two-time Emmy Award winner William Shatner ("Star Trek")  and comes from director Sean McNamara (The King's Daughter). The film also stars Jayden Greig (The Shape of Water), Lauren McNamara ("Summer of Dreams"), Kirsten Robek (The Edge of Seventeen), Dan Payne (Star Trek Beyond, Watchmen), Ty Consiglio (Wonder) and Alex Zahara ("The Man in the High Castle").

Aliens Ate My Homework is a suspenseful family comedy which follows the adventures of sixth-grader Rod Allbright (Greig) and the extraterrestrial lawmen known as the Galactic Patrol. When a tiny spaceship flies through his window and lands on his science project, Rod and his cousin Elspeth (McNamara) meet a group of friendly aliens, including Phil, a talking plant (voiced by William Shatner). The earthlings quickly join the aliens' adventurous mission to help defeat an evil alien criminal. After discovering the evil alien is disguised as a human – someone he knows all too well – Rod and Elspeth race to save the world from total planetary disaster.